Terraced CANYON- Cambodia housing challenge
An Integration of Landscape, Inhabitation and Circulation
A pedestrian 'river' carves a canyon through the built environment and in the process creates a series of terraced communities - referencing Cambodia's mountainous rice fields. As the walkway branches, forming a delta as it reaches the river, smaller, pocket neighborhood blocks are formed. A channel cut into the walkway ensures the river is not merely symbolic as the intention is for water to follow this when receding from the floods. Shaded from the sun, the canyon floor becomes the neighborhood park, the market and general community gathering space. The first 6 levels are accessible. During flood season, its likely water would follow this course to the river. The tallest structures are set farthest from the river, thereby allowing more units to have views and access to natural ventilation. A perimeter road around the site allows vehicular access.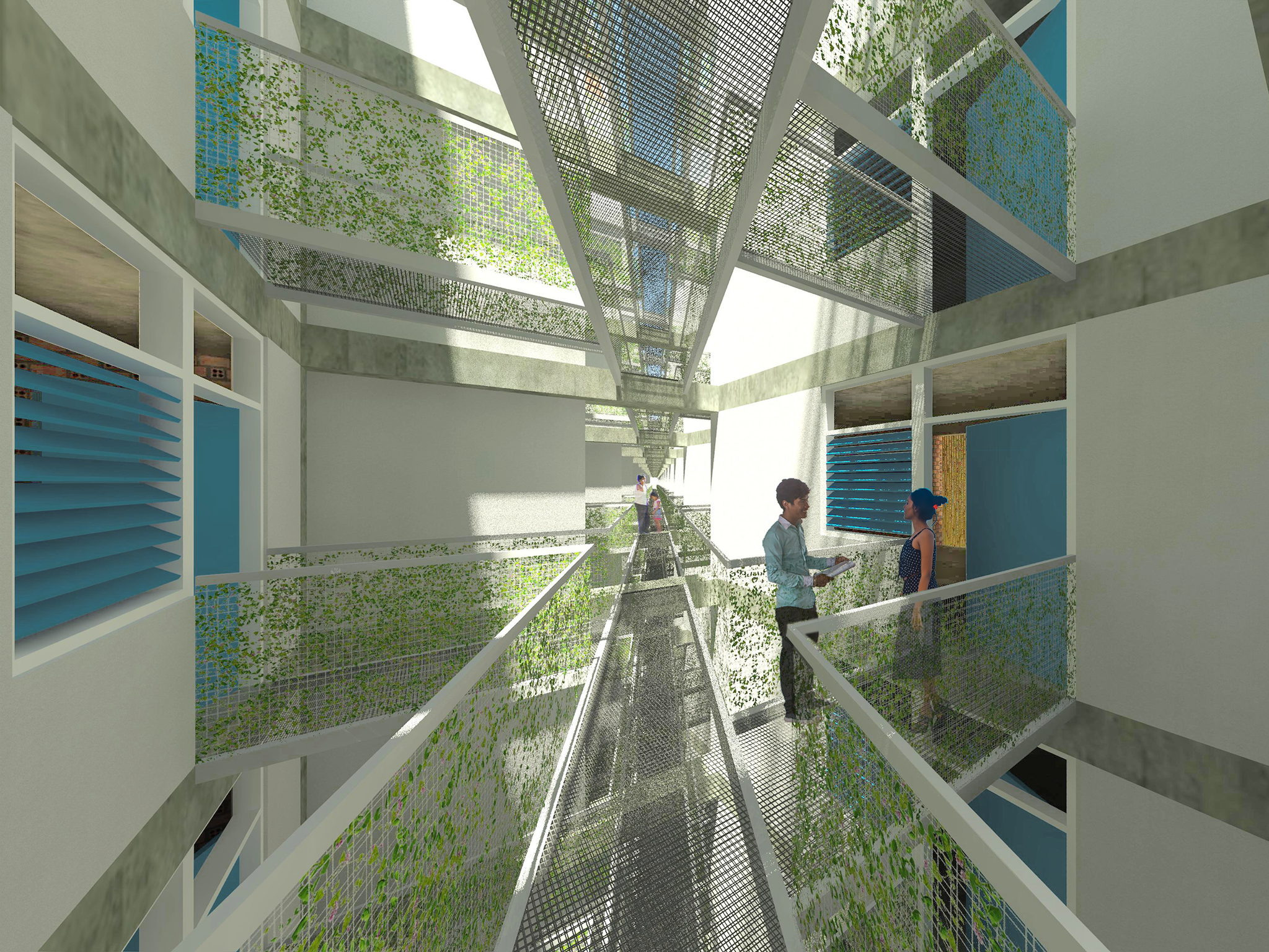 Public pavilions recall the form of vernacular huts on stilts. For shared activities like meditation, education and childcare, these forms are distributed throughout the site
Building corridors inviting residents towards community and greenery at every level
Private units conglomerated as landscape foregrounding shared outdoor community space
Shared pedestrian community space as the main organizing principle, with vehicle, service, and emergency access at the perimeter.
sUSTAINABILITY
The standard stacked apartment building is manipulated so that it works with climate conditions to increase functionality and sustainability. Units are staggered to optimize views and to encourage wind to pass through for natural ventilation. Breezeways are punctured with openings in the floors and ceilings to allow both daylight and fresh air into these intermediary spaces. Sloped roofs collect rainwater during the monsoon season to be stored in cisterns for the dry season. Varying roof angles optimize the collection of solar energy with the variability of sun angles throughout the year in the tropical latitude. The terracing green roofs along the "community river valleys" expand accessible green and public space. This, coupled with the staggering of the units, allows greater connection between units and families, fostering community throughout the development.
Conventional Alignment Vs. Rotated and Shifted
As families grow and wealth increases, the individual living units can expand. Units are designed to combine easily with adjacent units, and the number of beds increases significantly with each unit or half unit added.Sleeping pods, made of bamboo, provide a small, intimate area to rest within the larger space. Each unit opens to a small, covered, outdoor deck that provide shelter and allow ventilation during the rainy season. Additionally, it would serve as an extra sleeping or outdoor cooking area.